"…the most distinguished scientists in the world have called fear of global warming 'preposterous'
Heartland Institute
On June 16, 17, and 18, The Heartland Institute ran three full-page ads in the Washington Post calling for an open debate over the science of global warming. Please forward links to this page to friends and colleagues, and/or post these ads on your blog or Web site.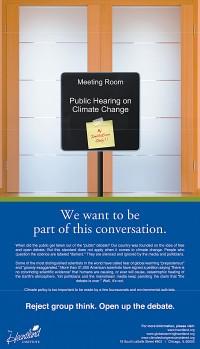 See larger version here.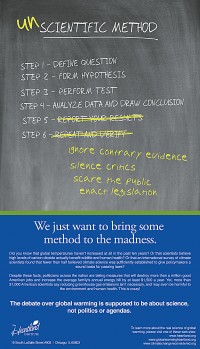 See larger version here.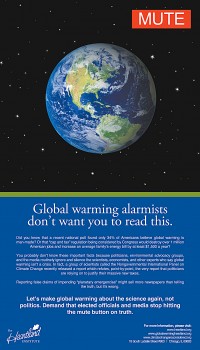 See larger version here.
Each of these ads make specific claims, such as "some of the most distinguished scientists in the world have called fear of global warming 'preposterous' and 'grossly exaggerated,'" and "a recent national poll found only 34% of Americans believe global warming is man-made." Sources backing up these statements appear below.
We placed these ads because the mainstream media refuse to report the views of many scientists - by some accounts, most scientists - who believe global warming is not a crisis. The media also fail to accurately report the enormous cost to workers and consumers of legislation that would limit greenhouse gas emissions and the extensive public opposition to "cap and tax" legislation.
The science and economics of global warming are not too complicated for the average person to consider and make up his or her own mind. We urge you to do that. Go here and view some of the articles linked under "What's New" or "A Primer on Global Warming." Or go here and read about the new report from the Nongovernmental International Panel on Climate Change (NIPCC), which comprehensively rebuts the claims of the United Nation's Intergovernmental Panel on Climate Change (IPCC).
Go here for the sources for the factual statements in the ads.